№2. Course 3Ds Max + Corona renderer + Photoshop From CGBandit Interior 3D Visualizations for professionals (English version)
INFORMATION ABOUT THE EDCUATIONAL COURSE:
From 2021 V5.0 CGBandit Training Course Corona renderer / PS (Professional 3D visualization for interiors) has been updated.
Dear English-speaking visualizers, we did professional translation of educational course CGBandit and prepared tutorial videos with ENGLISH SUBTITLES specially for you. Now you can purchase full course and study comfortably. You will receive video tutorials with full analysis of my working process and learn how to get the same renders as mine.
Nowadays 3d-artists and designers look like competitive hounds. They are chasing advantage, waiting for a miracle. But what if we combine all best techniques, best algorithms for building beautiful light/shadow composition and most effective post-production methods?
We can get impressive picture, so people will pay attention, enjoy every detail, every pixel of image.
Course is made for students with basic skills of: #CoronaRenderer #3Dmax #Photoshop
Educational course contains:
Full analysis of my working process: from raw render to final post-production in Photoshop
Method of using gamma 1.0
"Killing" of non-photorealistic color mapping
Process of creating artistic shadows, influence of window configuration on light composition
Artistic composition
Combining best light / shadow fragments of image
Geometric planes as a tool for the formation of photorealistic overexposures
Spectacular artificial lighting
Photoshop Post-production
Many more interesting tricks Educational set contents 16 tutorial videos, duration is more than 13 hours
We add you to the online support chat from the mentors of our educational project. In the online support chat, you receive our individual help and feedback. We answer any of your questions and help you create graduation 3D visualizations, as well as help with your current work projects. Assistance in online chats is provided in English. We provide mentor's support for a period of one year from the date of purchase of the course.
You get our full support and analysis of your 3D visualization workflow throughout the year. You receive feedback not only in the online support chat in text form with screenshots, but you also receive individual video lessons with analysis of your 3D visualizations from mentors. If necessary, advice and assistance are provided by our mentors via Skype call, or a teamviewer session with a screen demonstration.
I, Valentin Kuznetsov, author of educational course have more than 16 years of experience in 3D-graphics. Rendering engines don't work as well as real cameras, CG-images can't compete with photo on websites like: https://leibal.com/ or https://hqroom.ru/ In addition, I developed my own algorithm of post-production for raw render images and interior photo. You can assess the effectiveness and beauty of this method in my social network groups. I will reveal for you these secrets of impressive post-production in my tutorials.
Educational course doesn't contain:
Modeling
Design
Complex materials
My tutorials will give you unique information, which you won't find in Internet or books. In case you're not sure about your knowledge in 3DMax or Corona Render, you can send me some of your renders, I will assess if it's enough for course. Best regard, Valentin Kuznetsov
---
When buying a course in September, you will have access to a super bonus gift:
Access to a database of high-quality, newest and most relevant 3D scenes on our marketplace "https://bendtrade.com/3dmodels/3d-scenes". We add 200 bonuses to your balance for free. This allows you to download any of the coolest 3D scenes from our marketplace for an amount equal to $200
Plus another bonus, we will add you to secret chat where free 3D models are shared.
---
After confirmation of payment within 24 hours, you will receive an educational course from CGBandit with personal activation keys! And we add you to the online chats of continuous feedback and our teacher assistance.
Attention please!
There are TWO TYPES of education we provide for separate Prices:
VIEWER (340 USD)

( - 40% DISCOUNT) = 200 USD!

- Everything is included except for support feedback and our help in creating your graduation and working 3D renderings.

PARTICIPANT (1750 USD)

( - 40% DISCOUNT) = 1050 USD!

- All inclusive.
After you create your final 3D visualization, we will issue you a certificate of completion of the CGBandit training course. For example: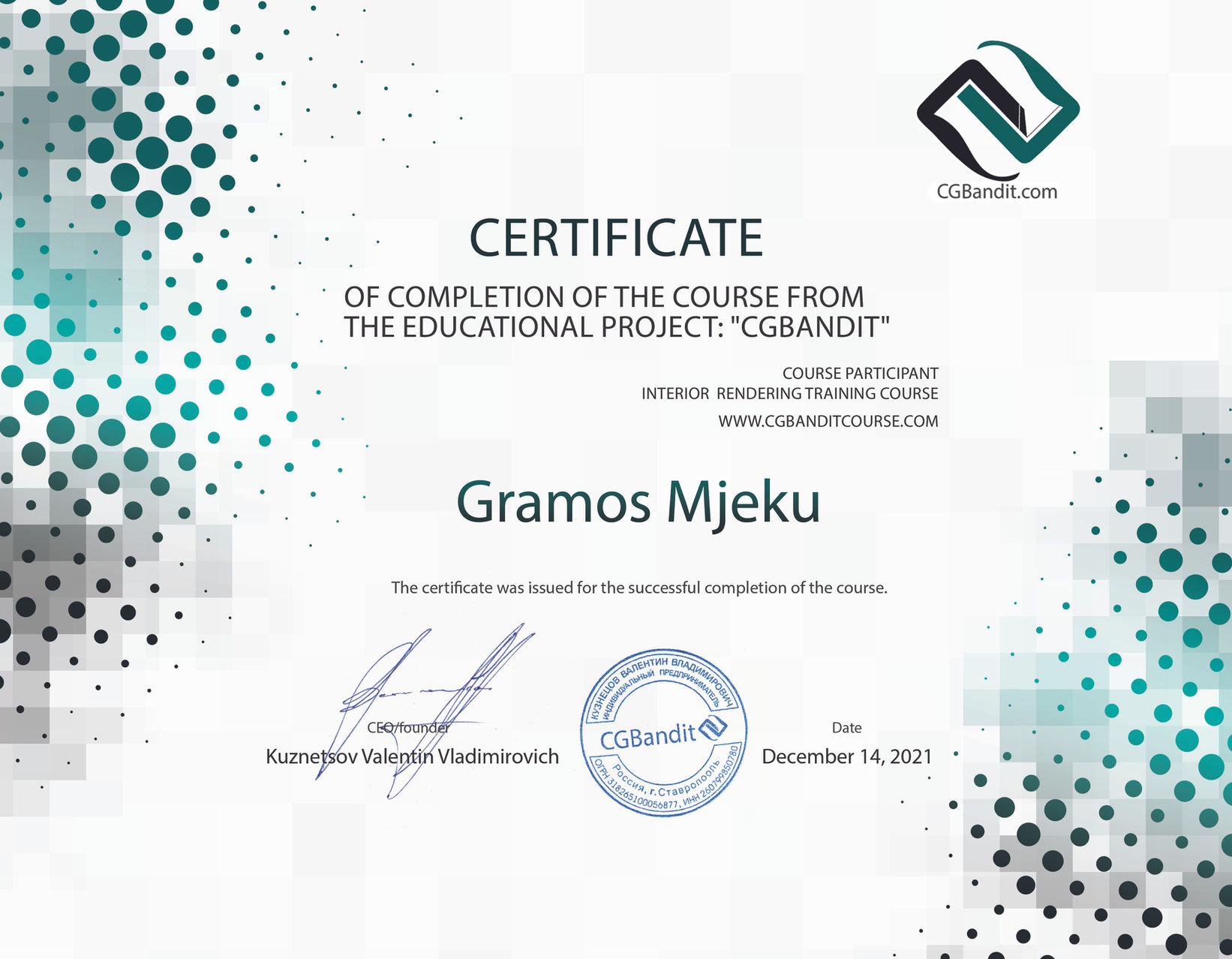 For sales and consultations of this course in the English version, please send a personal message to Valentin Kuznetsov:
https://www.cgbanditcourse.com/contact-us
Some video tutorials from our YouTube channel for professionals: