№1 "Fake interior lighting in 3D Max and Corona Renderer. 3D rendering by CGBandit. V3.0"
The course is voiced over by professional (female) actor, see demo here:
https://www.youtube.com/watch?v=RueHc3U4yig&t=4s&ab_channel=CGBandit
The course includes:
A breakdown of the workflow for creating fake lighting in these ten 3D scenes.+ The effective lighting analysis for "Fast routine projects", no wasted time post-processing.

We will provide you with all 3D scenes appearing in video tutorials.
Method of using gamma 1.0 + CGBanditgamma.lut for Corona Renderer+3Ds Max.
A detailed analysis of "The logic of daylight"
The logic of light in enclosed spaces.
Additional lessons on fake lighting: Setting fake lights in bathrooms and hallways.
Creating fake lighting: spot light, ceiling lamp, TV, pendant light, wall light, floor lamp, table lamp, street lighting, technical lighting.
Total length of video tutorials: 6h 30 min

When buying a course in December, you will have access to a super bonus gift:


Access to a database of high-quality, newest, and most relevant 3D scenes on our marketplace "https://bendtrade.com/3dmodels". We add 200 bonuses to your balance for free. This allows you to download any of the coolest 3D scenes from our marketplace for an amount equal to $200
Plus another bonus, we will add you to secret chat where free 3D models are shared.
We add you to the online support chat from the mentors of our educational project. In the online support chat, you receive our individual help and feedback. We answer any of your questions and help you create graduation 3D visualizations, as well as help with your current work projects. Assistance in online chats is provided in English. We provide mentor's support for a period of one year from the date of purchase of the course. You get our full support and analysis of your 3D visualization workflow throughout the year. You receive feedback not only in the online support chat in text form with screenshots, but you also receive individual video lessons with analysis of your 3D visualizations from mentors. If necessary, advice and assistance are provided by our mentors via Skype call, or a teamviewer session with a screen demonstration.
FREQUENTLY ASKED QUESTION:
Will I have access for educational course forever ? — Yes, we give your personal license key . You can watch tutorials as much as you like. No time limits and amounts on watching video tutorials.
After confirmation of payment within 24 hours, you will receive an educational course from CGBandit with personal activation keys! And we add you to the online chats of continuous feedback and our teacher assistance.
---
Attention please!
There are TWO TYPES of education we provide for separate Prices:
VIEWER (350 USD)

( - 40% DISCOUNT) = 210 USD!

- Everything is included except for support feedback and our help in creating your graduation and working 3D renderings.

PARTICIPANT (1150 USD)

( - 40% DISCOUNT) = 690 USD!

- All inclusive.
After you create your final 3D visualization, we will issue you a certificate of completion of the CGBandit training course. For example: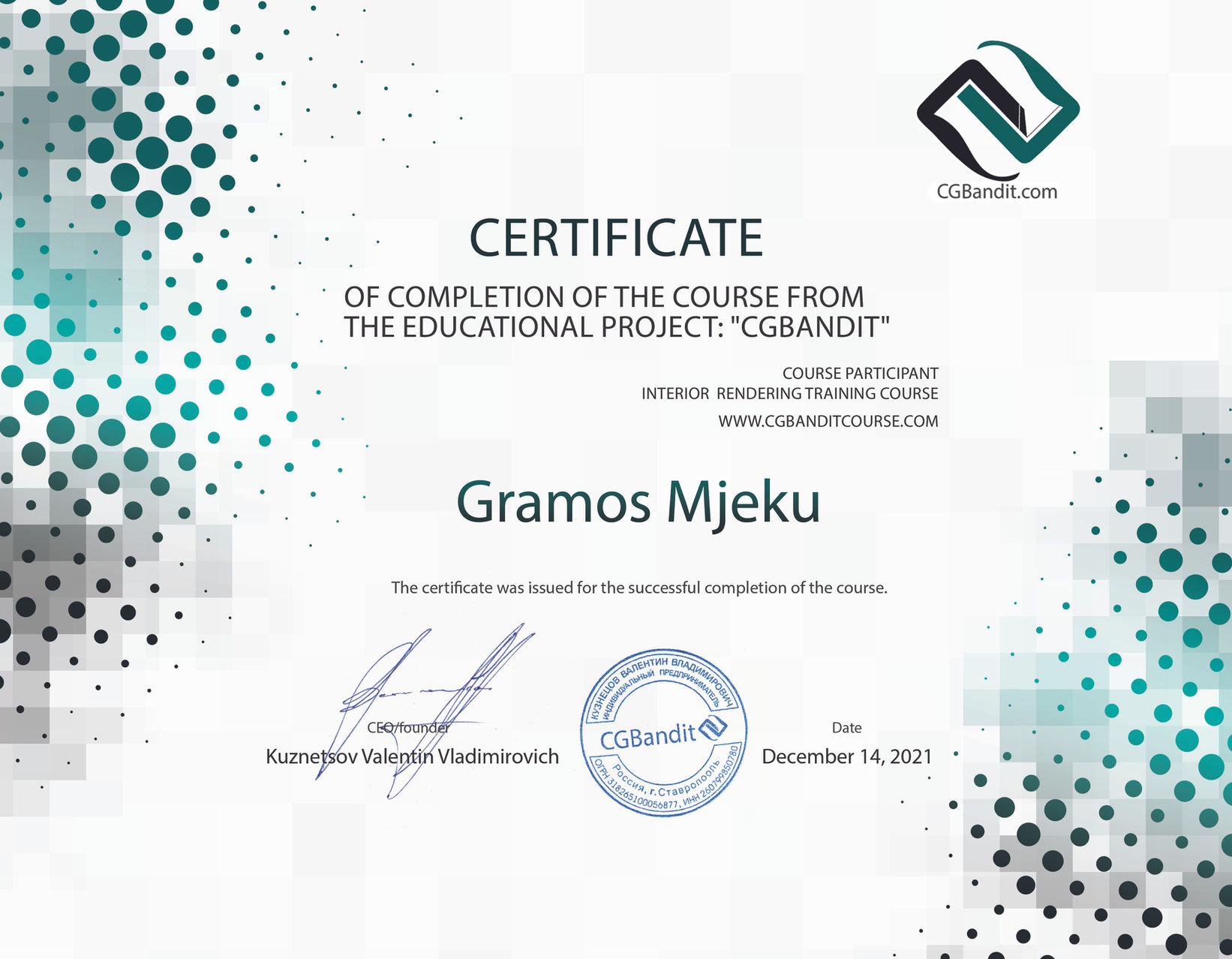 For sales and consultations of this course in the English version, please send a personal message to Valentin Kuznetsov:
https://www.cgbanditcourse.com/contact-us